1.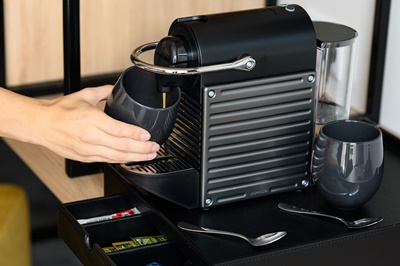 Rinse then fill the water tank with fresh water. The water tank can be carried by its cover.
2. To turn the machine On, press either the Espresso or Lungo button. Blinking Lights: heating up Steady Lights: ready
3. Lift the lever completely and insert the capsule.
4. Close the lever and place a cup under the coffee outlet.
5. Press the Espresso (40 ml) or the Lungo (110 ml) button. Preparation will stop automatically. To stop the coffee flow or top up your coffee, press again.
6. Take the cup. Lift and close the lever to eject the capsule into the used capsule container.
7. This machine is equipped with an energy saving feature.The machine will automatically enter Auto Off mode after 9 minutes. To turn the machine off before automatic Power Off, press both the Espresso and Lungo buttons simultaneously.